Data Centers in Japan: An Overview
There are 350 business data centers in Japan. This number does not include in-house data centers – it will be twice (or even thrice) the number if they were included.
Data centers are concentrated in Kanto and Kansai regions, while there are no major commercial datacenter located in Tohoku region.
72% of data centers in Japan are located in Kanto region, in which the 34% of it are located in Tokyo.
19% are located in Kansai region.
The remaining 9% are scattered in the other parts of Japan.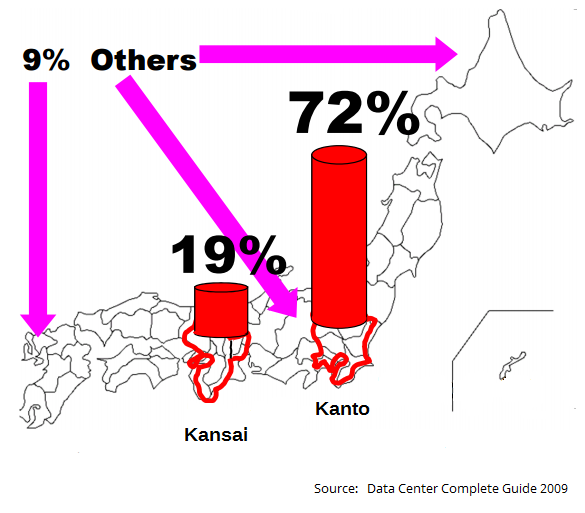 Natural Disaster: A Factor that Flawed Japan towards Perfection
In terms of technological advancement and leading infrastructural design, no one can deny that Japan continuously set a high global standard. It is also the reason why many companies, whether local or foreign, choose the land of the rising sun as the location of their data centers.
Japan is able to boast no political risk and so any risk of acts of terrorism or religious conflict are very low. Whilst geographically Japan is convenient for access to the US, Asia and Europe, it's sub-ocean fiber connectivity gives it excellent positioning as a key hub in the global data network. Last but not the least, the Japanese nationals itself. They are known for their timeliness, hardwork and Omotenashi temperament.
Even with such perfect attributes, Japan has one serious weakness to face – its vulnerability to natural disasters. While having a geographical advantage for global connections, it is also the reason why it is prone to earthquakes. The country is located in the Pacific Ring of Fire.
Lookback: The Earthquake that Challenged Japan's Advancement
On March 11, 2011, at 2:46 p.m. JST, a magnitude-9.0 earthquake ruptured a 500-kilometer-long fault zone off the northeast coast of Japan. Its epicenter was 130 kilometers off Sendai, Honshu which occurred at a relatively shallow depth of 32 kilometers. (According to earthmagazine.org)
Regions that were greatly affected are Tohoku region and Kanto region. Prefectures located in these regions that experienced higher intensity (between intensity 5 – 7) are Iwate, Miyagi (Sendai), Fukushima and Ibaraki. On the other hand, Tokyo experienced relatively lower intensity (ranging from 5- to 5+)

There had no damages reported in all data centers in Japan. This includes the building, facilities, equipment and underground cables and connections.
No internet connection lost had been reported. Stability and speed of the connection has been maintained before and after the rupture.
Disaster Response and Preventive Measures
How Data Centers Survived the Megaquake
Japan Data Center Council (JDCC) set guidelines such as structural design, power management and environmental sustainability that upgraded the data center industry in Japan. These standards include strategic countermeasures to cope with the following disasters: Earthquakes, typhoons, heavy snowfall and tsunami.
As for preventive measurements, JDCC published manuals and also led trainings to data center operators.
Opportunities that Keeps the Organization Optimistic
Megaquake that occured last 2011 is such a tragedy that will never be forgotten. Nevertheless, it has been a great call for Japan to fortify its strengths and sustain its status in technological advancement and leadership in infrastructural design.
To do this, the Japanese Government and JDCC took the following steps:
Implementation of the Electric Power Saving Order to answer the possibility of long term power shortage in case of another serious disaster
JDCC creating guidelines on Power Usage Effectiveness
Continuous training for data center operators
Design programs and activities to improve the data center industry in Japan
Japan Data Center Council knows that weaknesses are just an avenue for improvement: Weaknesses can be transformed into strengths to be used for the capture of future opportunities:
1. Domestic Market Opportunity
2. Test Market for Eastern Asia
3. International / Domestic Network
4. Products & Local Methodology for Energy Efficiency