Japan Data Center Council
Organization Type: Specified Nonprofit Organization
Location:
c/o Mitsubishi Research Institute
100-8141 Yubinbango, Chiyoda-ku
Tokyo Nagatacho
Chome No. 10 No. 3
Establishment: December 4, 2008
(NPO corporation certification date: April 10, 2009)
Website: http://www.jdcc.or.jp
E-mail: info@jdcc.or.jp
Mission & Vision
To strengthen the foundation of an IT oriented nation of data centers in Japan in terms of cost, performance, safety & security. JDCC provides support to data centers in Japan in facing challenges of global competition.
JDCC is a non-profit organization formed by Nippon Data Center Association together with data center operators and IT industry stakeholders so as to address issues that hinder the growth of the industry. It also aims to help Japan maintain its international progression and therefore lead the global competition.
JDCC envisions a strong and globally competitive data center industry that maintains high standards and technical skills.
Scope of Responsibility
1. Non-Profit Projects
Activities that will help increase the international competitiveness of the data centers.
Information dissemination and training activities about data centers to promote stakeholder awareness.
Information gathering, conducting research and studies that will benefit data center operators.
Activities that will promote the standardization of data centers.
Activities that will improve the technical capabilities of data center operators.
Survey existing data centers to ensure proper standards are being maintained.
Create and nurture partnerships with third party organizations and the government, as well as promoting international cooperation for projects related to data centers and IT.
2. Others
This includes other operations needed to achieve the goals of Nippon Data Center Association.
Organizational Chart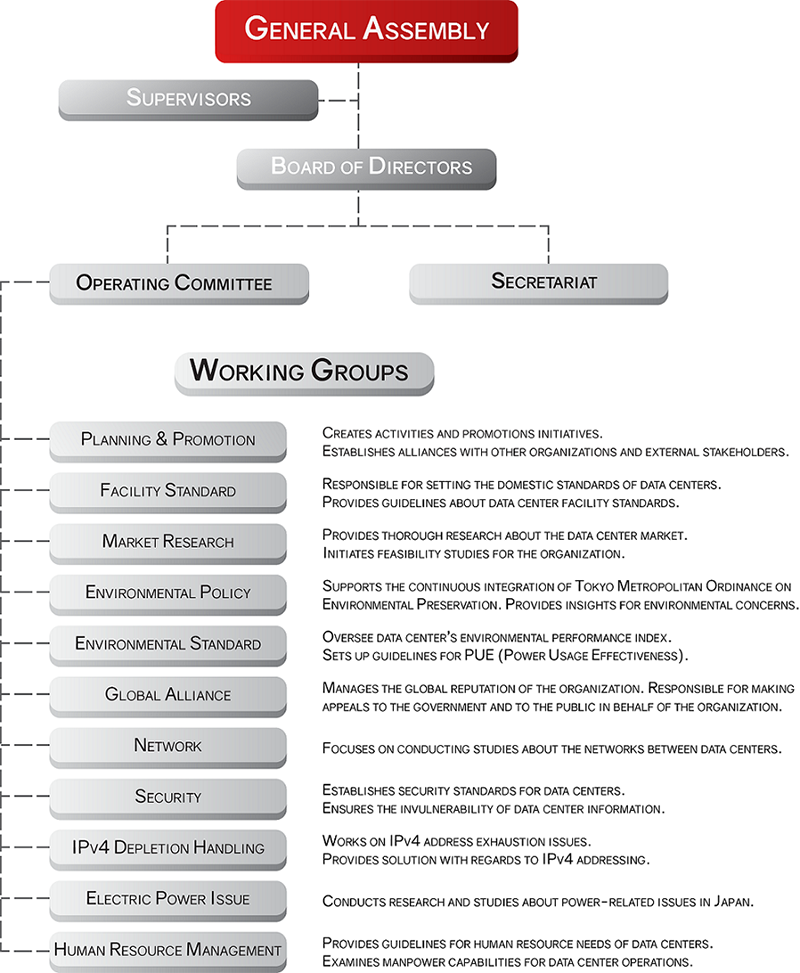 Officers
JDCC Chairman Kunihiro Tanaka
Vice Chairman&Steering Committee Chairman Hiroshi Esaki
Director Kazutomo Isono
Director Kuniko Ogawa
Director Nobuhiro Kato
Director Susumu Kawaguchi
Director Kazushi Koga
Director Katsuhisa Suzuki
Director Hideyuki Nakahara
Director Naoki Hashitani
Director Yosuke Hiyama
Director Toru Yasumaru
Director Yasuhiko Yamada
Director Masanori Yoshida
Auditor Noriko Yoshida
The Story Behind the Logo

The logo of the Japan Data Center Council (JDCC) signifies the organization's primary objective: to strengthen the foundation of IT oriented nation of Japan.
The six (6) vertical lines represent the following areas JDCC is working on to strengthen the global competency of Japan data center industry:
Environment
Education
Safety
Incubation
Development of Cost Indicators
Policy Recommendations
As respect for the organization's home country, Japan, the colors red and white were used to reminisce the Japanese flag.
Silver gray color as font face of the initials of the organization (JDCC) symbolizes advancement in technology.
This logo is official and is being used in all activities and programs involving the organization.